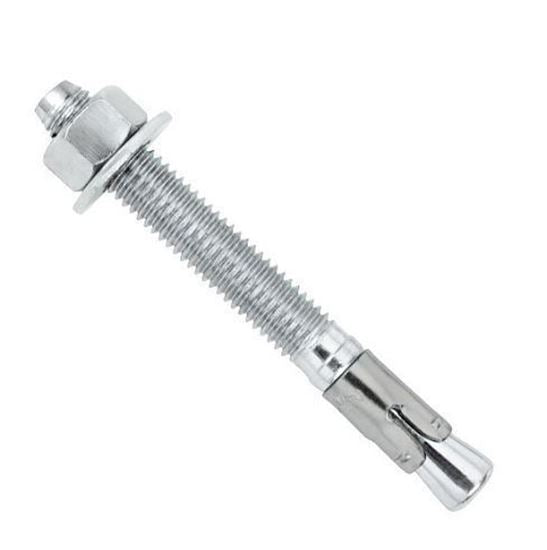 Power-Stud®+ SD2 Wedge Type Expansion Anchor
Part No./Size:
7413SD2 - Box of 50 Pieces 3/8" x 3"
Manufacturer: DeWalt
The Power-Stud+ SD2 anchor is a fully threaded, torque-controlled, wedge expansion anchor which is designed for consistent performance in cracked and uncracked concrete. Suitable base materials include normal-weight concrete, sand-lightweight concrete and concrete over steel deck. The anchor is manufactured with a zinc plated carbon steel body and stainless steel expansion clip for premium performance.
FEATURES
Consistent performance in high and low strength concrete
Nominal drill bit size is the same as the anchor diameter
Anchor can be installed through standard fixture holes
Length ID code and identifying marking stamped on head of each anchor
Anchor design allows for follow-up expansion after setting under tensile loading
APPLICATIONS
Structural connections, i.e., beam and column anchorage
Utility and safety-related attachments
Interior applications / low level corrosion environment
Tension zone applications, i.e., cable trays and strut, pipe supports, fire sprinklers
Seismic and wind loading
Medium to heavy duty purposes
APPROVALS
International Code Council, Evaluation Service (ICC-ES), ESR-2502 for cracked and uncracked concrete
Code Compliant with the 2015, IBC, 2015 IRC, 2012 IBC, 2012 IRC, 2009 IBC, and 2009 IRC
Tested in accordance with ACI 355.2 and ICC-ES AC193 for use in structural concrete under the design provisions of ACI 318-14 Chapter 17 or ACI 318-11/08 Appendix D
Evaluated and qualified by an accredited independent testing laboratory for recognition in cracked and uncracked concrete including seismic and wind loading (Category 1 anchors)
FM Global (Factory Mutual) - File No. 3033795, 3/8" and 1/2" diameters Pipe hanger components for automatic sprinkler systems
Underwriters Laboratories (UL Listed) - File No. EX1289 - See listing
Mfr. Cross Reference

Hilti Kwik Bolt TZ

Simpson Strong-Bolt 2

Red Head Trubolt+
Specifications

| | |
| --- | --- |
| Anchor Length Overall | 3/8"x 3" |
| Internal Thread Depth | 1-3/4" |
Power Anchor Selection 
Chart